February 27th, 2010
Hey worms and wormholes,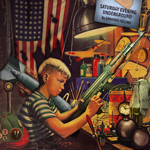 As most of you know, the new Londons Falling: Saturday Evening Underground CDs have finally arrived. We are ecstatic about the result of this project, and we want to thank everyone for their patience and believing in us that we weren't bullshitting you that we were gonna get this fuckin' thing done. We like to extend our deepest thanks to Jim Nau & Jon Hasz for their diligence, time, and mastery of their skills to this project. We are indebted to them for making our vision a reality.
So in the face of human struggle (which is a constant theme nowadays) and the carnage that accompanies its' ugly face, we decided to give back to organizations that truly make a difference, not only by our physical actions, but fiscally. So when you purchase the new album, a portion of your money will go towards San Diego Youth Services Storefront Night Shelter. This emergency shelter is a place of safety for homeless, runaway, and "street" youth. I've been volunteering there on and off for over two years hangin' with the youth, playin' music with them, and listenin' to their stories, dreams, and ideas.
We encourage people to be active in their communities by volunteering or donating money to organizations like San Diego Youth Services. Thanks for helping us out and thanks for helping the youth of San Diego. Let's truly try to make a difference in 2010.