November 5, 2011 5:00 pm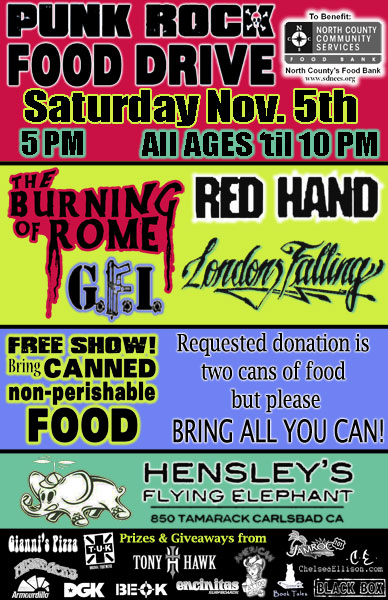 The 3rd Annual Thanksgiving Punk Rock Food Drive will be happening November 5th at Hensley's Flying Elephant in Carlsbad, CA. The show starts at 5 pm and it will be All Ages until 10 pm.
We could list a hundred reasons for you to go but in the interest of brevity we'll stick with three.
Number One – You will be helping hundreds of hungry people in North County.
This is a free show but we ask that you bring two cans of non-perishable food. All donations will be presented to North County Community Services, North County's Food Bank. In addition, you can donate directly through our Active Giving Page at http://www.active.com/donate/sdnccs/punkrockfood.
Help us raise $3,000 and 3,000 pounds of food for North County!
We strongly encourage everyone to audit their cupboards and give all you can. Organize a food drive at your place of work and bring that to the show! Use your energy and creativity to help others!
Number Two – Four Great Bands.
We've got a great line-up this year featuring: Londons Falling, Red Hand, G.F.I., and SD Music Award Winners The Burning Of Rome!
Number Three – We'll be raffling tons of prizes.
Here's just some of the folks who've graciously donated gear for you to win: T.U.K. Footwear, American Tattoo, Armourdillo, Blackbox Distribution, DGK, Gianni's Pizza, Encinitas Surfboards, Jamroc, Chelsea Ellison, Book Tales, Flashbacks, with more to come.
And for the Grand Prize – The man himself, Tony Hawk, has donated an autographed Birdhouse skateboard deck! Come on out for your chance to win it.
All the makings of a fantastic show and a powerful fundraiser! We'll see you there!
You can get more information, volunteer or donate directly at http://www.punkrockfood.com/
More »